Presberichten van Acoustiblok
Contact Information
Marketing & PR Manager: Liz Ernst
Telephone: +1 (813) 980-1400 ext. 210
Fax: +1 (813) 849-6347
E-mail: lernst [at] acoustiblok [dot] com
Acoustiblok Inc. International Headquarters
6900 Interbay Boulevard
Tampa, Florida 33616 U.S.A.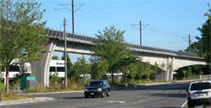 Acoustifence® Brings Peace and Quiet Back to Seattle Residents Living with Light Rail Train Noise
SEATTLE, Washington – November 2, 2010 — When the Link light rail system first began running in July 2009, Rainier Valley and Tukwilla residents in south Seattle were unprepared for the screeching, tearing and grating sounds that began filling their air space 20 hours per day, seven days a week….read more [PDF]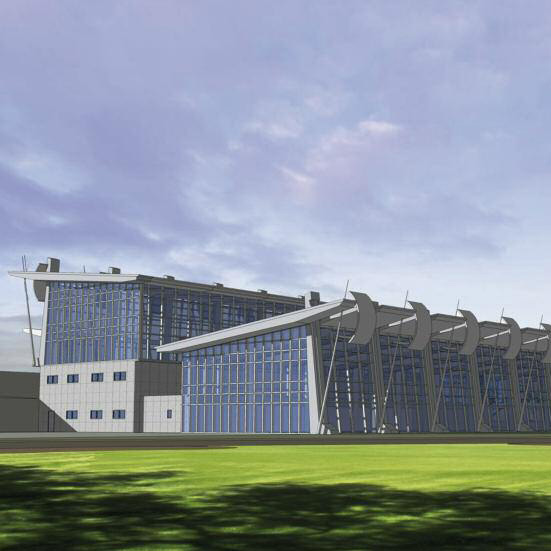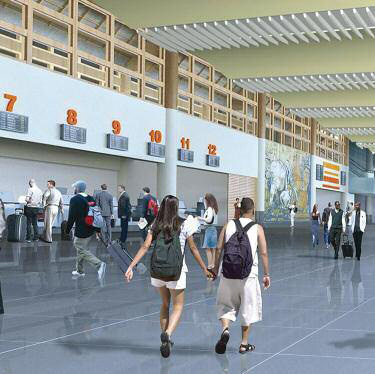 Acoustiblok® Chosen to Quiet New Passenger Terminal in State-of-the-art Swaziland Sikhuphe International Airport
SWAZILAND, Africa – While airport officials all over the world are working to find ways to reduce high noise levels in their terminals, one of the world's newest airports has addressed the problem during the terminal construction phase….. read more [PDF]

Acoustiblok® Corporation Combines Acoustifence® and Earth/Foliage Berm to Reduce Outdoor Noise Pollution
TAMPA, FL — As any landscape professional already knows, installing trees and vegetation on a berm between roadway traffic and residences may be aesthetically pleasing, but these elements are not effective noise control barriers. Acoustiblok, Inc., a world leader in noise abatement for both inside and outside installations, has announced the release of Acoustifence, a revolutionary new defense against outdoor noise pollution…. read more [PDF]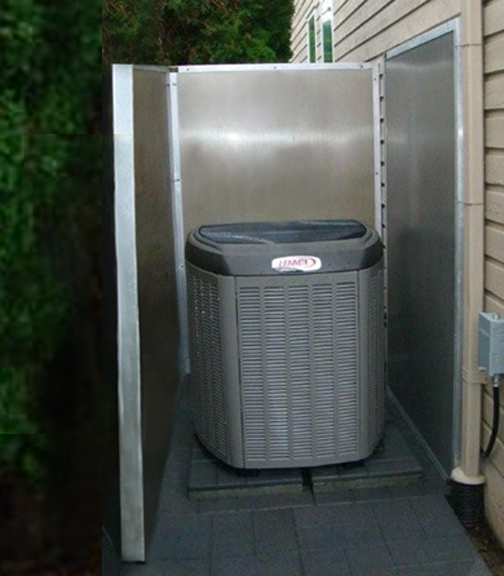 Good Neighbor Installs "Acoustiblok All-Weather Sound Panels" to Silence his Outdoor Heat Pump
DELTA, British Columbia — Harald Scherrielies of British Columbia has a noisy heat pump at his house. Well, he had a noisy heat pump at his house; all is quiet now. Scherrielies installed a well known, top brand HVAC unit in his Delta home last year, and on the cusp of another frigid Canadian winter, he says he loves it. His neighbor? Not so much….. read more [PDF]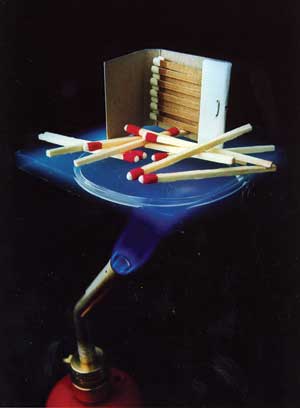 Thermal Insulation Strips Conserve Energy
NASA – Acoustiblok is an industry leader in acoustical insulation. One-eigth of an inch of Acoustiblok, the company's proprietary acoustical insulation, reduces more sound than 12 inches of concrete when added to a stud wall. It has previously conducted research with NASA on floor resonance-reducing sound from one floor of a building to the next. Impressed by the aerogel's qualities, Acoustiblok considered aerogel products for enhancing energy ef ficiency that could take advantage of the company's expertise in providing sound insulation for buildings and other applications…. read more [PDF]
Acoustiblok® Provides Kennel Neighbors with Peace and Quiet, and Kennel Owners With Peace of Mind
Tampa FL – Building or retrofitting a kennel can present some unique challenges for dog-loving entrepreneurs, but if engineered properly a kennel can and should be an affordable, quiet, and neighbor-friendly facility.When Deb and Jon B. hired contractors to design and build their 28 x 60-foot dog kennel in rural Iowa back in 2003, their decades-long dream of housing and caring for their farm community's canines quickly turned nightmarish when one neighbor complained that the noise from the barking was affecting his health. … read more [PDF]

Department of Energy Awards Thermablok-Insulated "Refract House" First Place in Architecture in the 2009 Solar Decathlon
Washington, DC– Tampa, Florida-based Thermablok, Inc. announces that Team California – consisting of students from the California College of the Arts (CCA) and Santa Clara University (SCU) – took top honors in the Architecture category of the U.S. Department of Energy's 2009 Solar Decathlon competition in Washington, DC. SCU/CCA students' Refract House featuring Thermablok's new aerogel insulating material placed third overall among 20 universities … read more [PDF]

Apartment Complex Wins Over Renters by Marketing Privacy and Noise Reduction Using Acoustiblok® Soundproofing
Hoboken, NJ – Residents of the Lexington apartments in Hoboken enjoy more than the usual amenities that are part and parcel in most upscale residences: tranquility. Considering that the number one complaint in multifamily housing is noise, and that people are now becoming aware of the effect noise has on not only their health but also on their relationships, marketing "tranquility" is indeed a major plus in acquiring new residents. Hoboken, NJ – Residents of the Lexington apartments in Hoboken enjoy more than the usual amenities … read more [PDF]

Thermablok® Welcomes Sprint to the U.S. Department of Energy's 2009 Solar Decathlon Team
Tampa, FL – Thanks in part to its growing environmentally-responsible initiatives, telecommunications giant Sprint has been chosen to provide broadband connection access for all users at the 2009 Solar Decathlon, including competitors, volunteers and the public visiting the competition at the National Mall in Washington, D.C. By partnering with the U.S. Department of Energy and its National Renewable Energy Laboratory (NREL) Sprint is supporting the three-week competition … read more [PDF]

County Jail's Installation of Acoustiblok All Weather Sound Panels Improves Sound Quality in Courtroom Videoconferencing
Largo, Florida – Videoconferencing between Pinellas County jail inmates and the adjacent Pinellas County Court saves money by doing away with prisoner transportation and the extraneous costs and inconveniences that go with escorting prisoners to court for arraignment and other initial appearances. Florida pioneered videoconferencing for prisons in the mid 1990's and many states have followed suit, but like most new technology the wrinkles must be ironed out. Unfortunately, when the state-of-the-art video technology … read more [PDF]

Acoustiblok Combines Revolutionary Sound Abatement and Insulation Materials at Broward County Waste to Energy Plant
Tampa, FL – Public awareness of the health risks of industry-related noise pollution has never been higher. Industrial plants worldwide are incorporating serious sound abatement strategies into their infrastructure to protect employees and visitors from hearing loss and other health issues raised by industrial noise pollution. When supervisors at the South Broward Waste to Energy (WTE) plant in Fort Lauderdale, Florida were faced with a non-stop, 30-day project to overhaul the plant's turbine, it was determined that … read more [PDF]
Earlier Releases
Angela Campisi named Public Relations / Marketing Assistant [pdf]
Chesapeake Oil sound panels [pdf]
Thermablok® Aerogel Insulation the revolutionary innovation in building insulation. [pdf]
Hurricane Model Sound Panel introduced at AHR Expo [pdf]
New Formula: Acoustiblok increases R Value 20% [pdf]
Liz Ernst named Director of Public Relations & Marketing [pdf]
In The Blogsphere
Thermablok's unique technology is noted on Stephen Hawking in Space and TECH.BLORGE
Visit Acoustiblok on Facebook
Acoustiblok In The News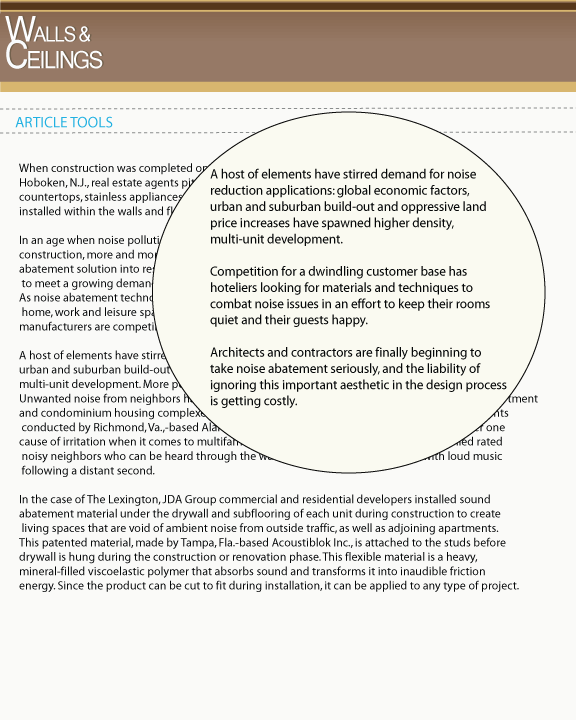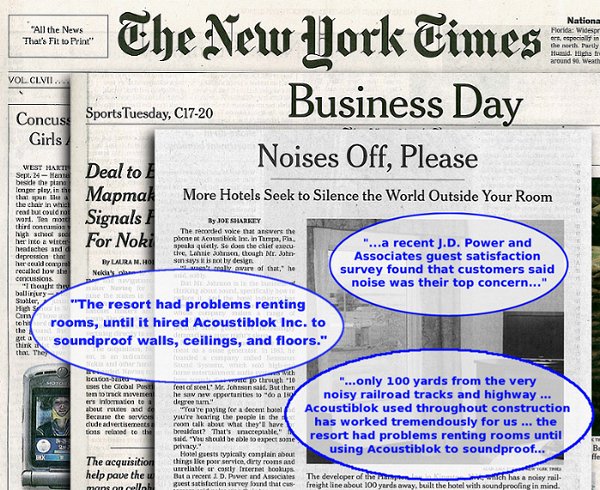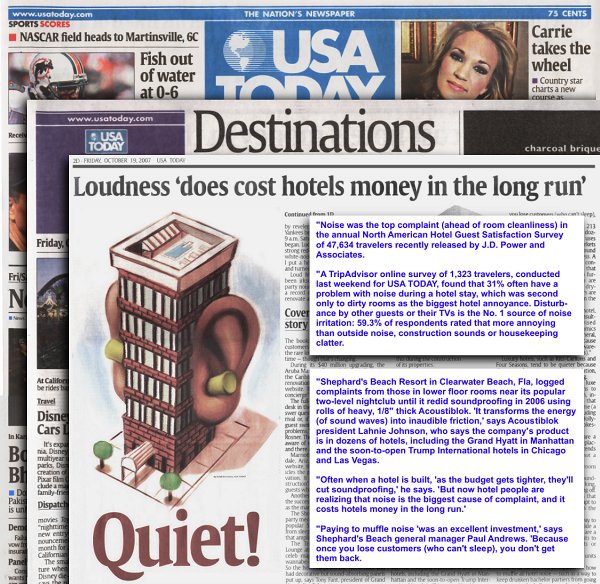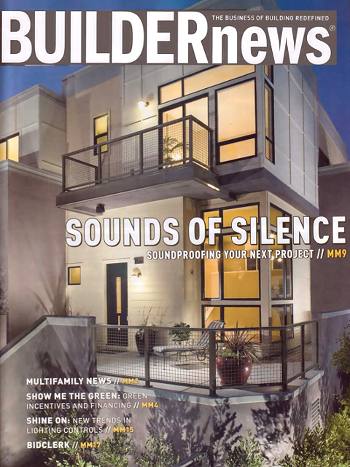 Sounds of Silence
by Johnathon Allen
Published: September 2009
Download as PDF file
Initiatives to redevelop and renew previously blighted and/or densely populated urban areas are giving multifamily builders new opportunities for work, but many of these projects also involve heightened noise-abatement issues that must be considered to avoid creating a building full of irritated tenants.
Nearby freeways, street-level construction and, most significantly, other neighbors can quickly turn a $500,000 luxury condo into a chamber of endless noise that results in homeowner lawsuits and expensive retrofits. To avoid this sort of cacophonic catastrophe, multifamily builders must be up to speed on the latest technologies, materials and noise-abatement design standards before initiating new urban projects.
"It's important builders recognize there is a noise problem in the first place. Noise is not usually a big concern for contractors because the ultimate goal is usually trying to build the building for a certain amount of money per square feet, when, in most cases, the tenant would happily pay more for a quieter living environment if they knew the option existed," says Lahnie Johnson, president and founder of Acoustiblok Inc.
Other Articles about Acoustiblok®
Building Design + Construction [pdf]
Design Cost Data Ida Stewart [pdf]
Framing & Drywall [pdf]
TileDealer [pdf]
Acoustiblok in Extreme How-To [pdf]
Acoustical Demonstration
Hear the difference: acoustiblok_stc.ppt gives an audio comparison of 8 tested wall configurations with Acoustiblok, based on independent laboratory test results. (Power Point, 9MB)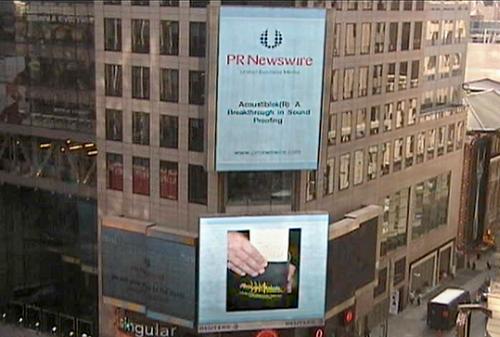 Acoustiblok featured in New York City's Times Square
Expanding its marketing and public relations campaign, Acoustiblok has recently been featured on the Times Square marquee in New York City.
Made in the U.S.A. and sold worldwide, what makes Acoustiblok stand alone from other sound reduction materials is that adding a 1/8″ thick layer of the UL approved material to a standard wall, reduces sound more than than 12″ of poured concrete. When privacy is desired, Acoustiblok is the solution.