Acoustiblok International
United Kingdom
Mr Ervine, Managing Director of Acoustiblok UK, collected the prestigious award from Defra minister, Lord Whitty of Camberwell at a House of Commons ceremony on Wednesday, October 29.
The material, widely used in the US, was hailed by award judges as a revolutionary step in noise abatement for both the workplace and at home.
It was introduced to the UK by Mr Ervine, who impressed NAS judges for his exceptional spirit of enterprise and creativity. Acoustiblok, which can be applied to existing buildings as well as new build projects, was also judged for its feasibility and environmental impact.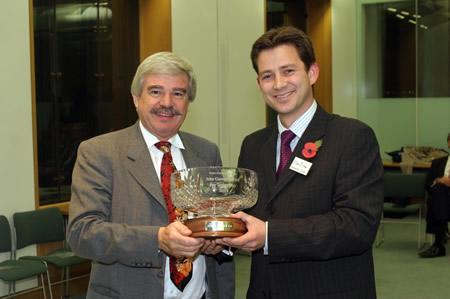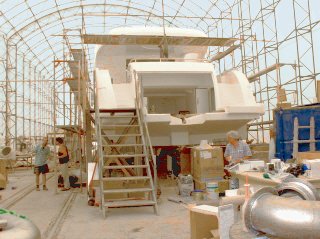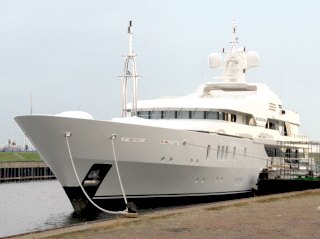 Next to the complex outfitting of the decks, guest cabins, owners suite and main lounge with state-of-the-art appliances and furniture, they encountered the problem of noise control. Immediately under the main deck with the beautiful lounging area, two huge MTU turbocharged engines with 2250 HP each will be roaring, along with power plants for electrics, airco equipment and water makers! Having all those noise sources only two inches away from the dining table, they were desperate for solutions.
Danube Marine called upon Willem B. Kraan and contracted him as an adviser, being a veteran in noise control and very well familiar with the best yacht builders in the world, having advised on ships built by Moonen, Amels, Benetti and many others. Willem Kraan strongly advised the use of Acoustiblok® as the main product for all sound abatement aboard. He also developed a special isolation panel for the isolation of the engine room, this panel being based on Acoustiblok® with layers of glass fibers, decoupling foam and protection meshing. With a thickness of only 65 mm, it does the job. Acoustiblok® turned out to be an easy to apply product that has proven to be excellent in all conditions, also in a harsh salt water environment. It allows for a fast and efficient isolation and yet being a very thin material, did not interfere with the complex interior of the "Romantica". The special panels were used in the engine rooms; In other places as the ventilation shafts, around the galley equipment etc. a standard laminated panel, of course with the Acoustiblok® inside, was widely used.
Danube says they are impressed by the professional way Willem B. Kraan made certain the right materials were fitted in the right places, and they are very pleased by the way Acoustiblok® turned out to be a high performance, versatile and easy- to –install sound isolator! Although the "Romantica" has not been launched yet, test with noise generators has proven the isolation is very satisfactory!
Danube Marine, with 2 more 120 feet yachts under contract say they surely will continue to work with Acoustiblok® and Willem B. Kraan, for them: a winning team!
Acoustiblok Distributor for The Netherlands
Willem B. Kraan, bv;
31.0.118.440012(P);
31.0.653.265.016(M);
31.0.118.440071(F)
pimkraan@zeelandnet.nl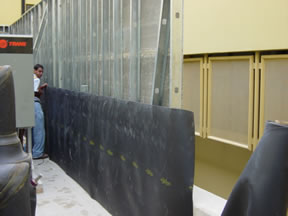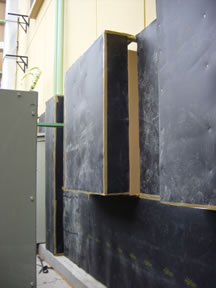 Costa Rica
Calderón Guardia Hospital: New E.R. Building
Our experience with Acoustiblok was absolutely positive and even exceeded our expectations, this hospital project had a severe acoustic problem due to the fact that the only feasible location for the chilled water plants ( 90 tons each) of the A/C system is right next to the building, specifically 4 feet apart from the intern's dormitories!!!!!
Once the chillers were installed, the owner discovered that the high pitch ( very uncomfortable) noise produced by the rotary screw compressors went thru the structural concrete walls like nothing, measuring up to 67 dBA inside the dorms and adjacent areas.
With just 3 weeks prior to the deadline, I recommended a perimeter acoustical barrier wall to deflect sound out of the hospital walls, the wall was simply made out of Sheetrock and a single layer of Acoustiblok , it only took a week to finish it and we obtained an impressive 20 dbA sound transmission loss in that same areas, now under a manageable 47 dbA reading.
Previous installed walls in similar applications made out of concrete or concrete and Styrofoam cost more time and money and are only half as efficient as the Acoustiblok solution, I definitively recommend to give Acoustiblok a try, you´ll be impressed, just like us!!!
Francisco Brenes
President
INGENIERIA Y CONSULTORIA ALFA ( Acoustic consultants)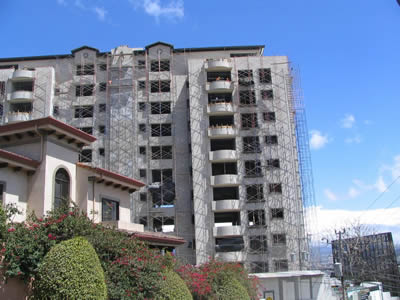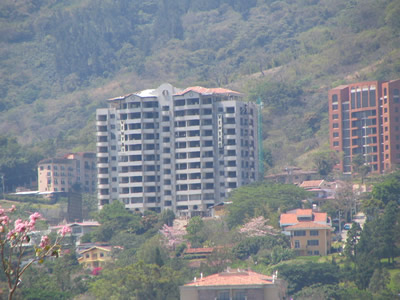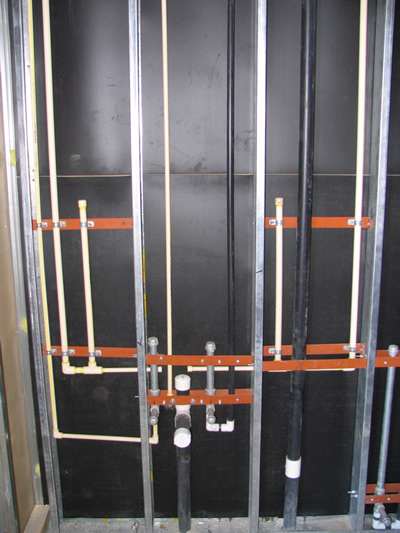 Hi Marilyn,
Better late than never, here's the story:
Located at Escazu, on the hills of the west side of San Jose, the most exclusive vertical condominium to date is under construction, Valle del Tamarindo is the name of the project and comprehends a 9 stories high building which houses 12 condos and 2 penthhouses.
Each condo is 5.000 sq/feet and the penthouses are 10.000 sq/feet constructions in 2 levels, the project houses the highest international standards regarding construction, security and finishes.
Privacy is a very important issue, specially in 6 figure homes, where due to the it¹s vertical nature, masonry can¹t be used on all internal walls due to weight and structural limitations, Costa Rica is a located in a very active seismic zone, with regular events all year and a 7.1 Ritcher scale earthquake in 1991!! So our seismic building code restricts the use of masonry on multi story buildings
When our consulting firm were asked on how to improve the soundproofing * properties of the internal walls, which were originally conceived as simple gypsum walls , we presented several options, in order to obtain an STC rating of 50 , considered a minimum standard for this kind of application.
The options considered common use construction materials in several configurations and layers or improving the simple gypsum wall with an Acoustiblok liner. Once the developer considered the options, the labor required for each configuration and indirect costs, the best investment considering soundproofing * benefits was the Acooustiblok option, which presents a STC52 rating in a very easy and fast way to do it.
Most of the bedroom and bathroom walls are considered critical and are treated, walls dividing kitchen and dining areas, as well as laundry areas are commonly treated zones as well, each apartment owner also have added his choice for specific treatments: offices, gyms, dens, yoga rooms , etc…
Our firm feels really proud to be part of such a high end project and having fulfilled the developer requirements on such a sensitive topic.
Best regards,
Ing. Francisco Brenes Obaldía M.B.A.
PRESIDENTE
Ingeniería ALFA: Servicios de consultoría en acústica www.ceroruido.com
Tel: 234-7926/ Cel: 381-1511